Arrived in Thailand, my motivation to cycle fades rather quickly. The heat, most of all the humidity, the rather uninspiring roads leading to Bangkok and the past hurried weeks make me long for a break. Already in Tak, on my fourth day in Thailand, I hop onto a bus to Bangkok!

Either way, I shall cycle more interesting parts of the country later on.
Travel vaccinations
When I left home some 18 months ago I still had one unchecked to-do: travel immunizations. I knew I needed an "update" on some things like tetanus (the last shot was in 1998, apparently), but then again I wanted to get other stuff done as well but there were just so many things going on (say: Dengue, Malaria) and I ended up not going to the GP at all.
Just when I'm in Bangkok researching my vaccinations, the Corona outbreak in China is making headlines and more than ever I'm convinced to get this done and over with.
At the red cross center in Bangkok, travel vaccinations are administered on spot without appointment and it's not too busy (... yet?). After a brief consultation with a doctor on my further travel plans I decide to proceed more or less as planned and get combination shots for

Rabies (there have been more than enough dogs+fox contacts to warrant this)
Japanese encephalitis
Tetanus-Polio-Diphteria-Pertussis, which comes as a combination vaccine by the name of "Boostrix-Polio"
Only for the second rabies shot I have to go back a second time. Altogether I'll pay less than 60 EUR which I deem a fair price for vaccinations that last several years.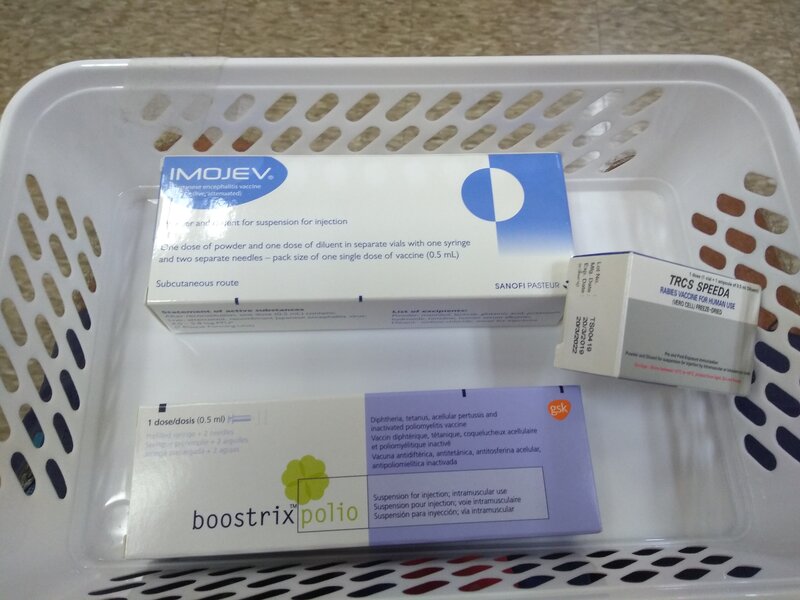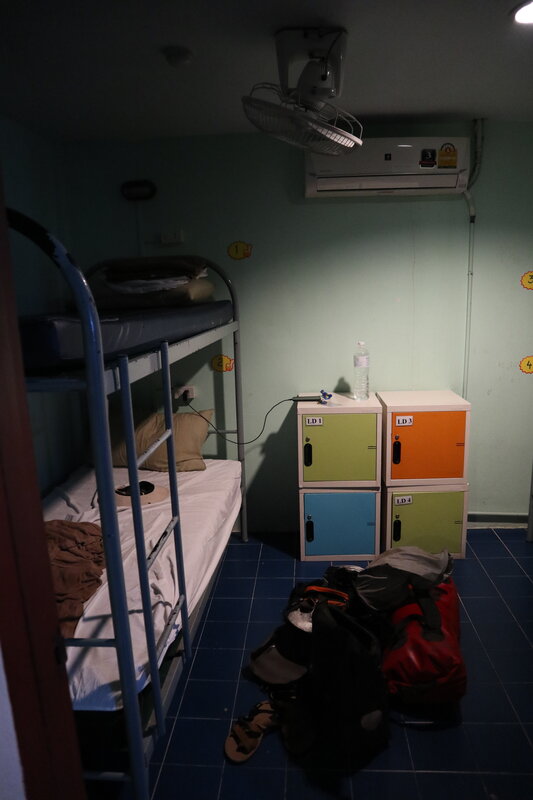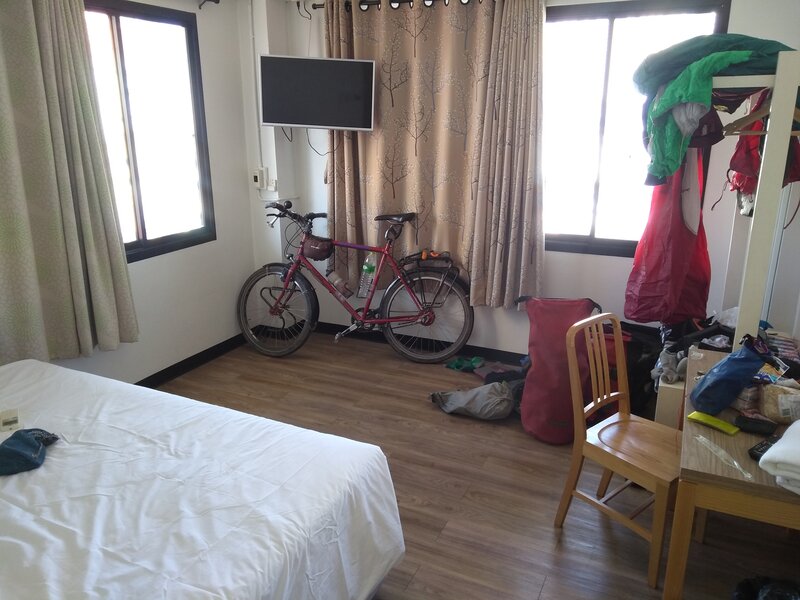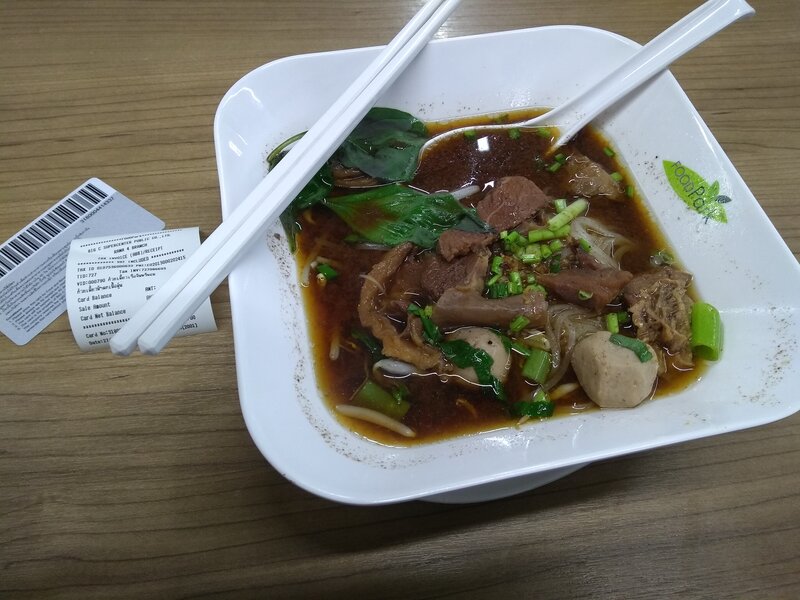 The "unluckiest" guy, ever...?
Long distance cycling is all about the experience and being out there. Planning too much or being too cautious sometimes can take away from that, and often enough one is greatful for having overcome challenges and looks back a them from a different perspective. Which is why I'm putting "unlucky" in quotes here.
That being sad I'm still glad I didn't have to endure some of the experiences a fellow cyclist, J. from Belgium, had to go through. We met somewhere on the road in Georgia and cycled together for 2 half days. The second day the headwinds were so strong that around noon I decided to call it a day and wait for the wind to turn the next day (which in fact it did! I guess I was "lucky"...). J. on the other hand had to pull through and go an additional 8 hours to Tbilisi that day, because he would start his volunteering job in a hostel the next morning.
Even though we didn't cycle together anymore after that day we still met again and I stayed in touch with J. through Whatsapp and was taken aback by the sheer amount of "bad luck" he seemed to attract during his trip:
Cycling along the Caspian in Iran, he was robbed of his money *
In Tehran he was diagnosed with "lime disease" (supposedly from a tick bite in Georgia)
Around the same time a close relative of his back home died
In Pakistan, all of his electronics were stolen while he was on a train
In Nepal he was hospitalized with dengue fever
... which 2 of his friends (visiting him in the hospital from Belgium) then contracted as well
Another time he got scabies from a hostel dog
... however that was not the same dog that had bit him in the ankle a few weeks prior
* The account of him dealing with the Iranian police is funny enough, so I don't want to keep it from you:
We went to the police station first, I was in shorts because my long pants were in my bike panniers at another police station.

When they saw my shorts, I had to wear a women's cover around my waist so that my legs were covered. Everybody's laughing of course. Then we saw the officer, there were handcuffed people all over. He said we needed to go to court. Somebody in the police station decided then to go and buy a pants for me.

Then we went to the local court for a paper, then somewhere else for a stamp on that paper and eventually we ended up at the attorney general where my story was again written down with pen & paper (computers haven't made it here to the police stations).

Then the attorney general apologized in name of Iran and promised me that his men would do everything to catch the thieves :p long story short :p
Gear update!
Visiting Germany in February is a welcome opportunity to get my gear updated. As one of my Ortlieb bags is torn beyond easy repair (one screw got lost and I realized it too late) and I want to have bigger bags anyways I've decided to get the bigger "pro" bags for the rear and move the "regular" ones to the front, gaining a whopping 50% in volume in the process.

Also, a new fuel pump for my Whisperlite stove is in order, after I accidentally melted mine in India when pump leaked and caught fire while I was away for a minute.

Also my Moto G5s Plus phone is barely working anymore: the right side the touch screen is unresponsive, making things like sending a text message a true chore. A new phone is in order.
Altogether I'm bringing back with me:
New phone (Motorola G7 Power sporting a 5000 mAh battery)
Knowing that it's probably not gonna last a year this phone is at 140 EUR a real steal
One new tyre (Standard Schwalbe Marathon Mondial)
(I'm still carrying a spare Mondial Evolution folding tyre, but I don't wanna use it for now)
Brand new Ortlieb Back Roller Pro panniers
The regular size panniers will move to the front, the broken pannier is replaced with

An old back pack
Replacing the Ortlieb Xplorer M I'd been carrying until now
My climbing gear (shoes, harness+belay device, that is)
Hoping to use it soon enough
Some spare parts such as Rohloff oil, carabiners, clothes line etc
My original seat post
Time for the Thudbuster to go. It was comfy but I think the seating position wasn't optimal for me, giving me back pain in the process.

Bike maintenance time!
20.000 km in total. My bike is in dire need of thorough check-up and some parts need replacement! As I do carry most spare parts needed, I don't have to pay the import markup making the whole endeavor a bit cheaper. I leave my Patria Terra in the trusty hands of Mae from BokBok bike to have a bit of work done:
New bottom bracket*
New front sprocket
New Rohloff shift cable set
New Rohloff internal gear mech cable

New chain*
Spoke tensioning / wheels trueing

* part provided by Bok Bok bike
When I pick up the bike a few days later I'm paying 2000 THB, including the spare parts provided by Bok Bok bike. Money well spend: the bike feels like new! Especially the gear mech cable was overdue: it had started to malfunction in Tajikistan, some 8000 km ago and was just hanging by a thread.

Time to ride on!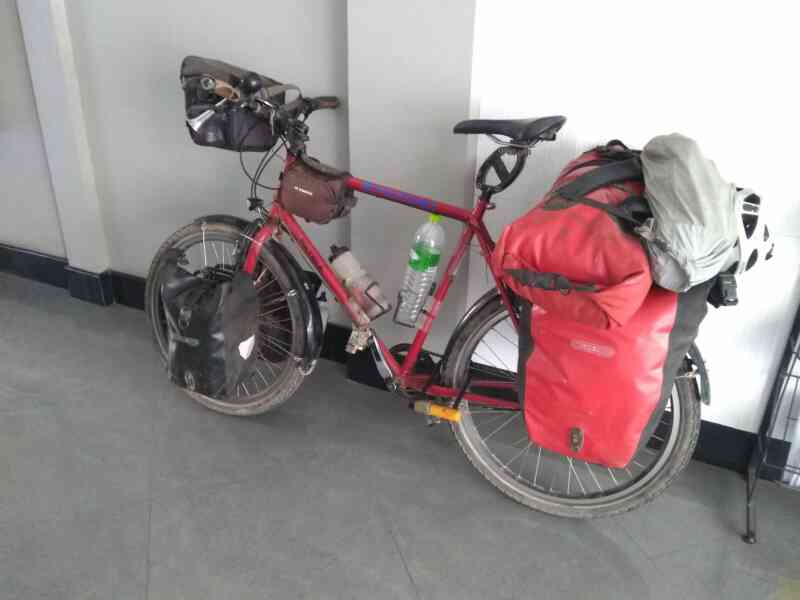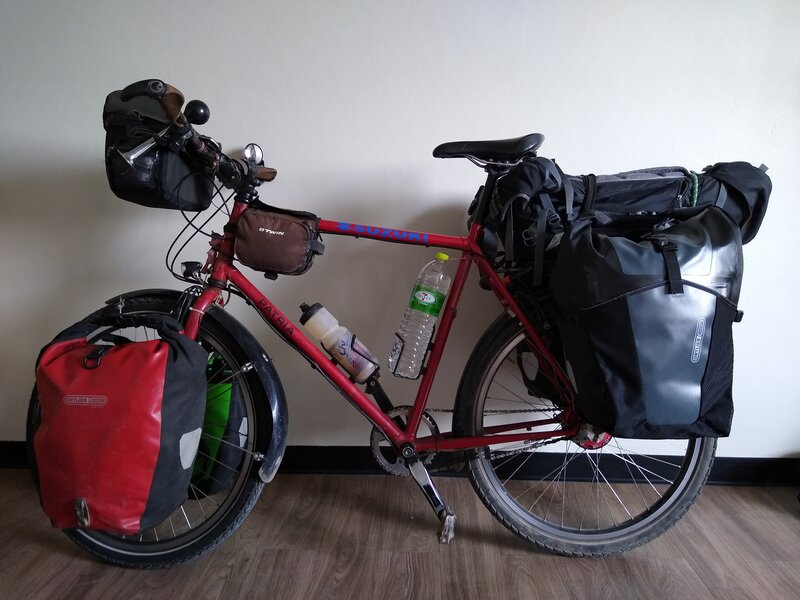 Oh wait... what about that virus?
By now it's end of February and a new virus is making headlines in China and Germany. Time to explore Thailand a bit, and together with my host Intan from Nakhon Pathom I set off for a quick trip in direction of Erawan National park.

Upon our return it's getting more clear every day: that virus doesn't seem to be going away anytime soon. While I'm plotting plans for potential routes,country after country are closing their borders. Not only the land border to Malaysia or Vietnam are soon inaccessible, also flying to Taiwan or New Zealand is now impossible.

To make matters worse, the visa situation is anything but clear. Will I be fined if I stay any longer? Do I still have to go the the immigration bureau to extend the 30 days visa exempt status?

Meanwhile Yoshi has arrived in Bangkok. We plan to meet up but as the contact avoidance recommendations spread and advisories against public transport increase, I decide not to travel from Nakhon Pathom to Bangkok after all. Lucky for Yoshi, he manages to fly back to Japan on his 3rd attempt: his previously booked outbound flights were both cancelled.

At the beginning of April, the German government announces repatriation flights for Thailand tourists. After a few days of consideration I decide that the outlook of being stuck in Thailand for an indeterminate time is not too enticing and decide to head back to Germany after all -- less than 2 months after my last visit there.
The last few days I spend in an almost empty hostel in the center of Bangkok -- Khao San. It is weird to see the metro-pole so quiet. While many shops and malls are still open, the volume of visitors has drastically decreased.