End of August I arrive in Khorog, capital of the Tajikistan's autonomous "GBAO" region which includes the bulk of its Pamir mountain range.
From here, my route will lead me via Murghab and past the Karakul lake straight to Kyrgyzstan. For more than 500 km of road, I will be cycling above 3000 m and cross no less than 5 mountain passes higher than 4000 m, with the peak being the Ak Baital pass at almost 4700 m!

Reason enough to chill out for a couple of days to gain some strength (I've lost track how many times I've written that by now. Must be a lot!).
My bike is doing fine. After a little cleanse and chain tightening (the new chain I put on in Dushanbe is already floppy!) it looks as good as new.
My only worry now is my "Sawyer mini" water filter which I use for, well, filtering the water. I feel the water is flowing faster than before and it wasn't of course until after it's purchase that I read the fine-print: "Do not use if you suspect the filter has been frozen". Now I'm a bit worried that during my last cold night in Turkey in February, it may have suffered some lasting damage.
Guess from now on I will be taking additional precautions when selecting water sources* and also more often than not resort to boiling the water with my stove.
Which brings me to my next annoyance...
My MSR Whisperlite International stove
Initially being a reliable worker, I've had more and more issues with the device. The first issue I ran into in February I could resolve quite quickly:
during my 3 months Winter break in Antalya, the pump (who I left in the fuel bottle) had dried out and the cap needed some oil.

However the stove has drastically lost performance over the next few months. The only thing it has been doing great recently is producing thick, black residue (no, I do not carry an extra priming agent with me) and none of my repeated cleaning, pump maintenance could do the trick: all I would get was a yellow flame.

Cue Yoshi who suggested to change the jet. Not something that I had in mind at all, since the jet I was using was clear of obstructions anyways. Well long story short: Using the K jet (K for Kerosene) to burn auto fuel worked! I had a blue flame again (though the flame was noticeably smaller than before) but at least, I could use the stove again somewhat efficiently.
Ready, steady.
Okay, time to move. I'm on the road, cycling away. Here's some photos. Just read the sub titles.

On our way through the poorest parts of Tajikistan we increasingly see the influence of foreign NGOs. A variety of infrastructure projects have been carried out by organizations from different nations. We see (Pedestrian) bridges and irrigatino channels (Switzerland), power supplies (Germany), schools (Japan), even... a beauty salon in the middle of nowhere, built with help of a German NGO!
SPA stop at the sanatorium
A welcome break from the "usual" hostel life is our stay in a old Soviet sanatorium in Jelondy. A double room costs about 5$ per person and the facilities are extremely simple but it gives access to the main attraction, the shared hot spring bath (which takes some guts to get into because it's REALLY hot). No photos though, because wet etc.
As I learn there are more hot springs on the way, but apparently all are commercialized/indoors. I'd really like to jump into a public/free one again, like I've last done on the way from Batumi to Tbilisi in March.
Breathing isn't always easy
By now, we're already above 3500 m and soon we're cracking the 4000s. Breathing on the climbs is now a real struggle. Often enough I have to get off the bike and start pushing, gasping for air. But even that is too demanding and every 5 or 10 meters or so, I have to take a rest. The road isn't too difficult, the gradient isn't too steep -- there's just no oxygen to breathe!

Yoshi decides to take it slower and we will meet later again in Murghab, where we have a multi day layover.

Ironically after leaving Murghab it is me who is affected more by the altitude, not being able to catch up again until after entering Kyrgyzstan a few days later.
It's all worth it, though. The scenery is stunning as can be.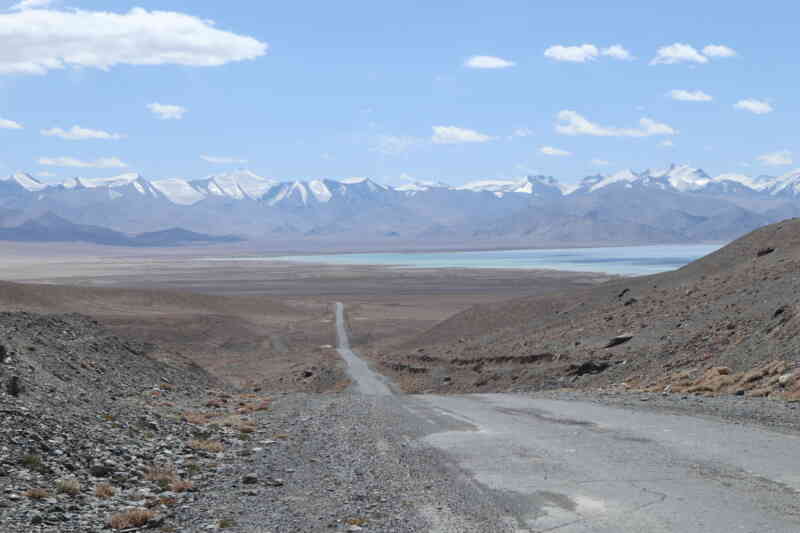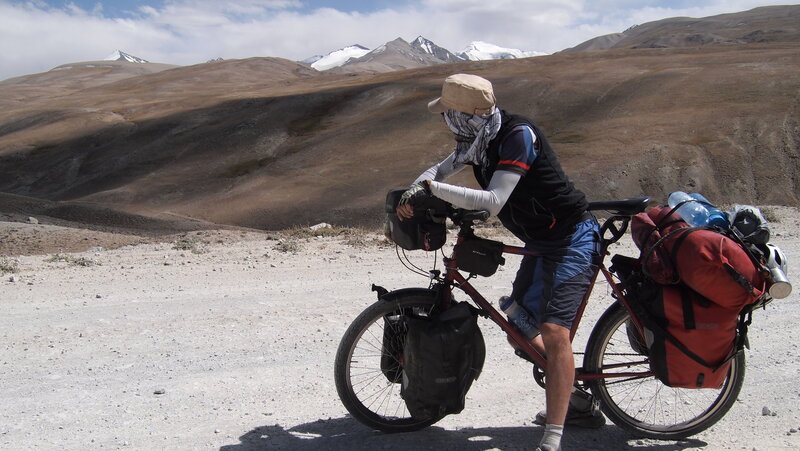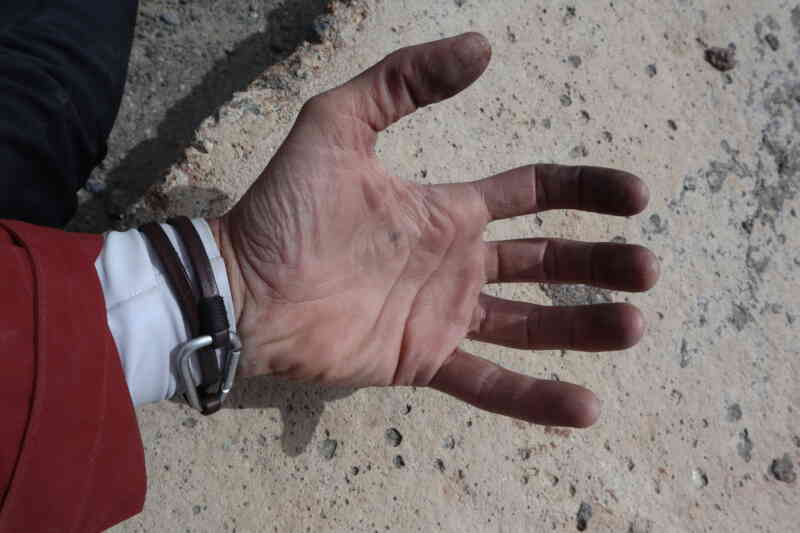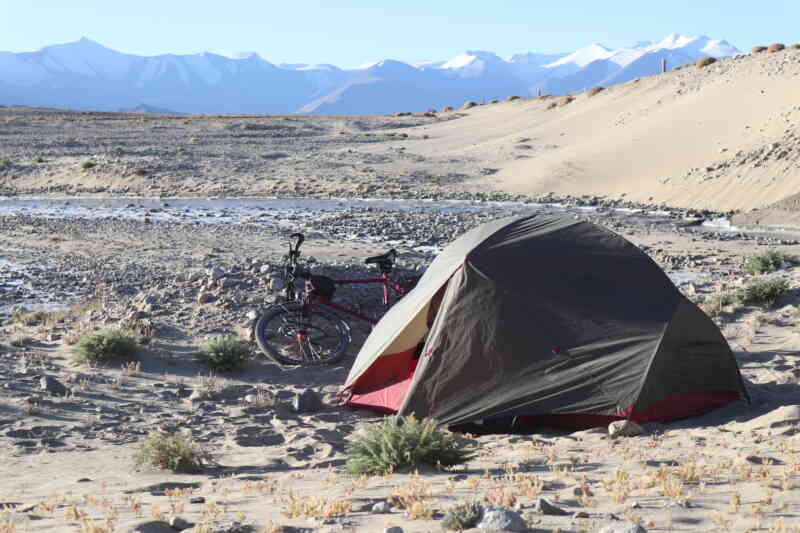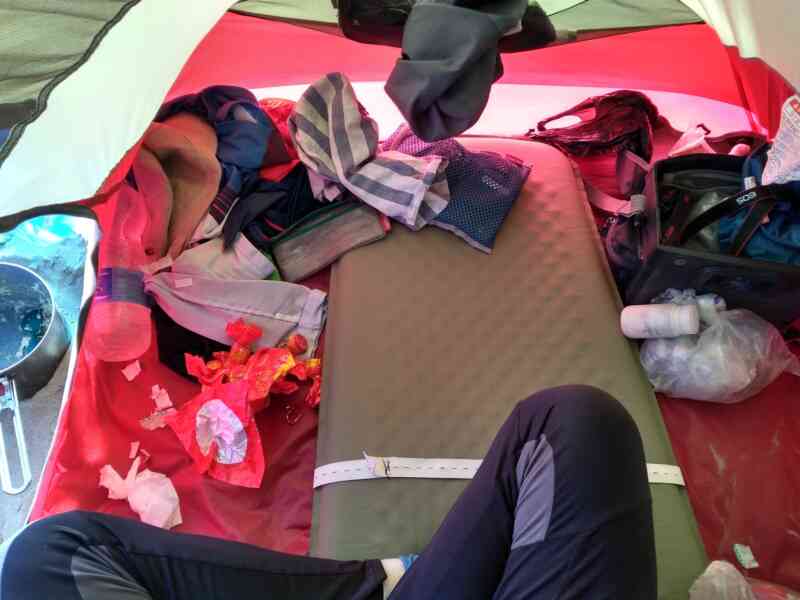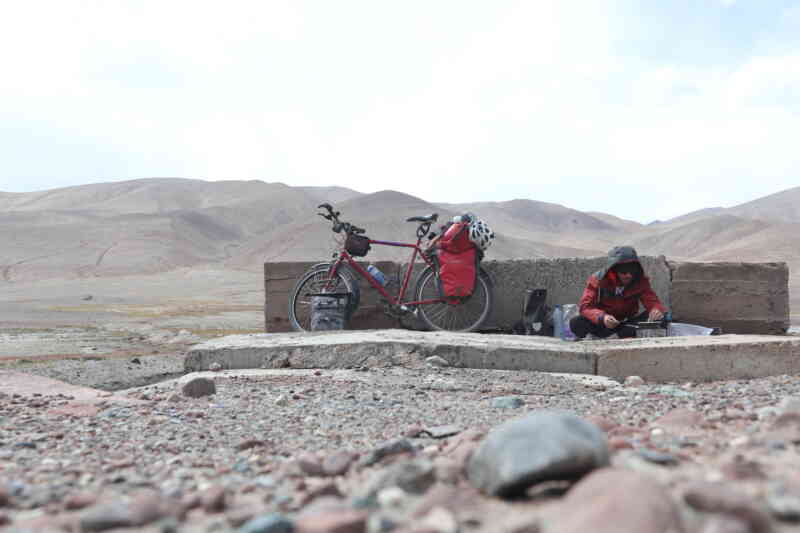 * A few weeks later I will get food poisoning one more time from... you guessed it, water. Stay tuned 👉