By now it has unfortunately become the new normal for me to be behind on the "stories" by several months. There are several reasons: Due to covid there are much less travelers, people on the road, which also means less contacts. Europe as a whole isn't super interesting for me and I don't see so many things that I think are write-down-worthy. And since I'm mostly wild camping these days I rarely have the option to "energize" my laptop.
Trondheim
My next highlight in Norway will be the first and only major city I'll be visiting in this country: Trondheim. I have a Warmshowers host lined up here and this will be the first night I'm not spending inside my tent since I've left Germany 6 weeks ago.
My hosts, Rebecka and Eiliv, live in a tiny apartment which I'm lucky to share with them for 3 nights. In exchange I give a small talk at their newly opened "bike kitchen", an endeavor sharing space with a local cafe where locals are trained by the couple how to maintain their own bicycles.
Camping kitchen
The food I prepare outdoors is usually easy to prepare, quick to cook and ideally it also yields many calories per weight/volume. Here's a selection of "typical" dinner and breakfast while camping, all cooked on my trusty MSR whisperlite (which typically only knows 1 setting: max power!)
Too much food?

I'll admit it: sometimes, I do go overboard. On one particular evening in Finland, after a slightly "bigger" purchase at a German-owned supermarket chain, I made an inventory of all food I had newly purchased and still in my bags. Needless to say I didn't go to bed hungry that night...

250 g of bacon
200 gr cheese
750 gr / 1 loaf of bread + a bit
400 gr swedish hard bread
250 gr of chocolate
1 new jar peanut butter
1 almost empty jar of peanut butter
1/2 jar jelly
Half empty bag of chips
3 apples
500 gr carrots
1 onion
1 can of tuna
200 gr dried figs
200 gr dried apricots
230 gr dried plums
2 boiled eggs
1 litre of milk
1/2 litre of yogurt
400 gr margarine
250 gr spaghetti
1 jar of ayvar
Instant coffee
500 gr salt
Some tea, spices etc
400 gr milk powder
3 packs of instant noodles
500 gr muesli
150 gr peanuts
100 gr polenta
4L of water
1 package outdoor food "Mac+cheese" 200 g (emergency food, for when I run out of anything else)
My last days in Norway are again rather wet and also cold. Thankfully in Sweden and Finland there will be more people willing to host on the way, and I am gladly accepting the hospitality (and excellent cooking) of a family in Ostersund, an organist in Sundsvall and another family in Vaasa, Finland.
It isn't until Ostersund however that me entering Finland is on the table again: until now, Finland's borders had been closed for travelers (from Sweden) throughout Summer due to Covid19 travel restrictions, and no ferries were even operating. When I hear about the reopening I'm more than happy to change my plan again and purchase a one way ticket to Finland (46 € bicycle included).

The ride from Sundsvall up to Umea along the E6 is one of the least fun I've had in a long time: during large sections the highway-like road offers no shoulder and only one lane per direction.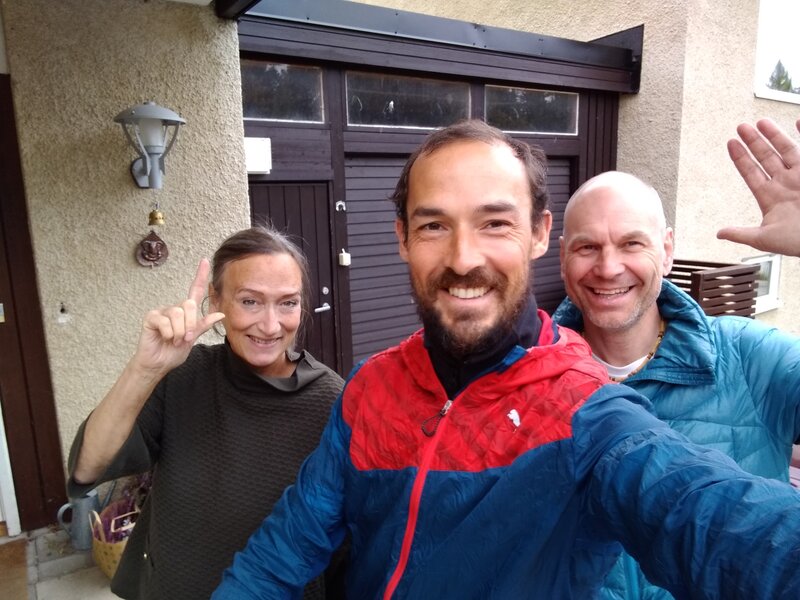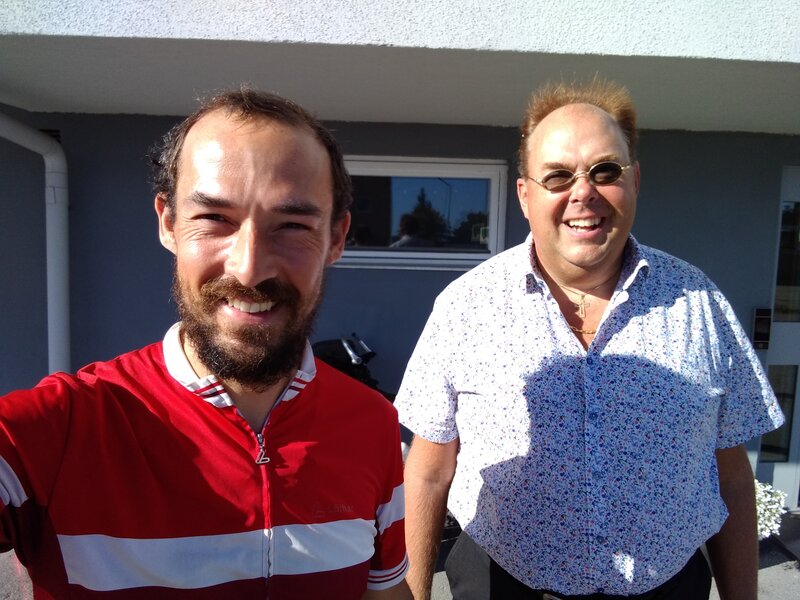 During my last days in Sweden I even get to see a moose, though only from a couple of hundred meters distance when it runs in front of a German camper van trying to cause an accident (no photo available).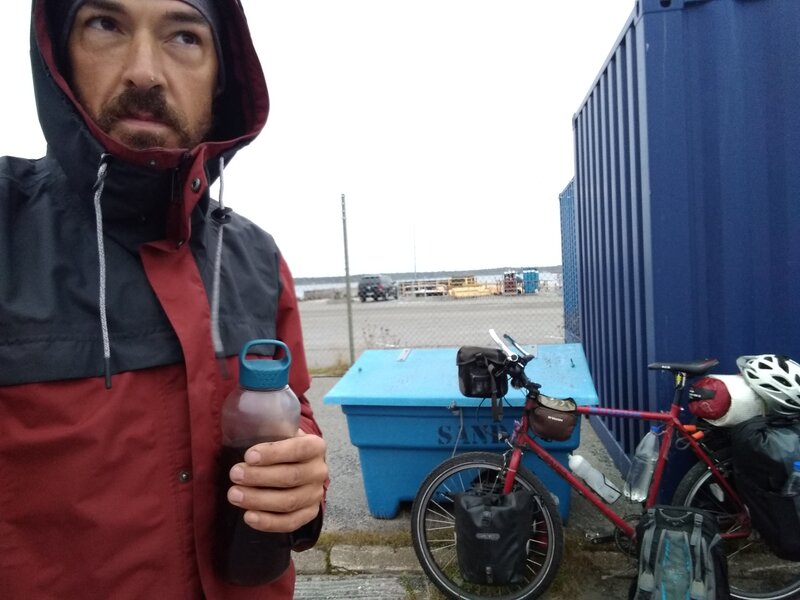 In Finland is where I also have one of the most annoying mishaps of my trip so far: Well-aware of a looming thunderstorm I had closed my almost empty Ortlieb bags before turning in for the night. As expected the rainfall came, and lasted throughout most of the night.
The next day I packed up as usual, but what I didn't realize: somehow I hadn't closed the bags properly the night before. When setting up camp again the following night and unpacking my bags, I started to wonder: why are my things wet now, when they were dry in the morning?
A few seconds later I realized the issue: There was a decent puddle of water at the bottom of both of my rear bags. Drying my tools, clothes and paper manuals in the forest? That took some time, you bet!
More Finland photos
Just like the geese, I'm eager to head South before the Winter really hit's Northern Europe. After all, it's October already!