Every new country starts with a border crossing
Coming from Azerbaijan I am entering Iran via the Astara border.
At first I end up - by mistake - at the pedestrian border crossing and security sends me back to the main road to exit Azerbaijan via the car crossing.
When I arrive there are no other vehicles and I have to actively search for staff who will exit stamp my passport so the guards will let me leave for Iran. Before getting the stamp they insist in x-raying all my bags, and I'm being asked some questions which I partially answer honestly:
- "Do you have a knife?"
- Yes, small knife

- "How many dollars?"
- No dollars

- "Do you have any forbidden items?"
- ???

It is my 16th day in Azerbaijan and while staying at a hostel in Baku, I had preemptively registered my stay with the police (a requirement of the visa if you stay longer than 15 days). Anyhow, nobody asks me about the registration.
In Iran I am being directed to enter through some kind of passenger terminal (again, I seem to be the only "customer" on this Monday afternoon) where my evisa is checked and stamped, my luggage x-rayed once more and I'm in.
Maybe 45-60 minutes for the whole procedure.
The Caspian isn't quite my taste
Along the busy Caspian sea coast most of the land is used as farmland. A smell of garlic is lingering in the air, instantly making me hungry. Too bad I've entered Iran on the first day of Ramadan: all restaurants are closed and I somehow have to survive buying food only from the tiny convenience stores along the road. This will be one of the bigger inconveniences of Iran: large supermarkets are extremely rare.
Garbage on the other hand is omnipresent: Iran sets a new record in that aspect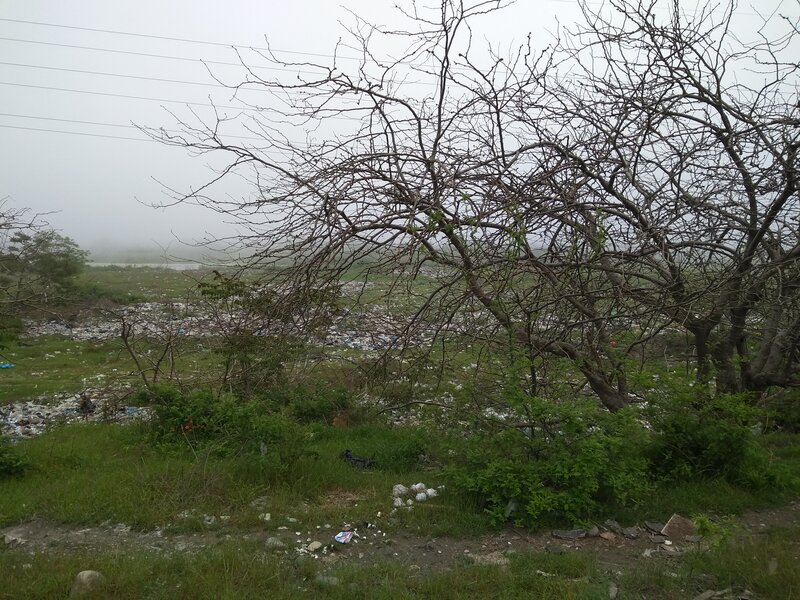 At the beach resort
My second night in Iran brings me in contact with the locals, when I end up at a small beach resort. One of the locals discovers me and helps me book a bungalow and order dinner (after sunset, of course).
"You think the house it is expensive? I can pay it for you" and "Oh, you don't have an Iranian SIM card yet? I will buy it for you" are only some of his "Tarof" offers, the Iranian habit to offer something without actually being serious.
In the middle of the night, I'm being woken up by a bell and a loud, rustling noise. I grab my head light and see a cow which is using the back of my house to rub it's itching back. It's 3 am. Don't cows need to sleep, too?
The Caspian sea coast has not convinced me so far. Despite being
supposedly more scenic I decide against continuing towards Chalus and continue via Rasht directly to Tehran
At the beach resort
Trying to get an Iranian sim card in Rasht
In Rasht, I also want to get a local SIM card. But before I can start this endeavor I'm already approached by a local who's goal it seems to be to talk to as many foreign tourists as possible. Together with his friend we march to a shop and after lengthy discussions, explanations, passport copies and confusion, I am owner of a local SIM card with a dat plan for about 600.000 IRR.

Unfortunately however the card ceases to work only 1 hour later and when I go back to the shop (alone), the lady who sold me the card previously is unable or unwilling to help. Of course this wouldn't be Iran if not another English speaking local (who witnessed the encounter) wouldn't jump to the rescue immediately.

Together we march to a different shop to have my sim card unlocked. Which proves ... impossible. And after paying another 200.000 IRR "service fee" and 1.000.000 IRR for a preregistered SIM card with 10GB I leave the shop happily. For now.

Because it isn't until after I start my first video call that the card stops working again, after merely 100 MB. Unfortunately I don't remember the way to shop the guys from the day before dragged me to and so I am left with no choice but to use the help of a local small shop owner to purchase credits for my phone to purchase a real data plan.
Getting online has never been so hard!

Scenic way onto the plateau
Tehran is about 1500 m above sea level. Some 30 km or so South of Rasht the road becomes more "quiet": all the cars are merging to the motorway while I continue with the trucks on the old road (trucks are not allowed on the motorway).
The incline is moderate, but the heat asks for many, many breaks in the shade, some lasting for hours...
Quick stop at the market
I stop in a small super market to get some food for the night. It doesn't take long until I'm surrounded by people, all trying to help me:
A customer calls his German speaking friend on the phone and hands me the phone. Meanwhile the cashier also calls someone, his English speaking brother, to come to the market to assist.
I want to buy bread. But there is no bread in the market. Of course, another guy is sent off to buy bread for me elsewhere! I speak to the German speaking guy on the phone "Thanks... I'm okay... I just want to buy some food."
The brother of the cashier arrives. He introduces himself as head of security of the nearby power plant. "Hello, how can I help you? Where are you from? Where are you going? Here is my phone number. You can call me if you have any problem!"
The returns with the bread.
I have meanwhile chosen a few items from the market, worth maybe 2$, but my money is no good here: the owner insists I leave without paying, not even for the bread...

Don't drink and ride!
The next day isn't shy of surprises either: around lunch time I get so thirsty that I drink almost a whole 1.5 liter bottle of Doogh (Iranian Ayran) in one go. I don't know whether it was just the amount of yoghurt bacteria ingested or if the product was a bit off already but inthat did have a very stimulating effect on my digestion.
Unfortunately not until I was on a busy road, with no toilets in sight. It was due to sheer luck that I could avert a terrible accident. But be assured: crouching behind a 100 cm tall wall with cars passing few meters behind me wasn't exactly the proudest, but definitely one of the more memorable moments of this trip -- so far.

Garden stay
It is the day of "the Doogh incident" that again I'm being invited by friendly locals once more. This time I'm waiting for dawn in quiet, rural area when an Iranian passing by in his car spots me. He is just on his way back to Tehran.
After a brief chat he invites me to pitch my tent in his garden nearby, which I gladly accept. The small garden is surrounded by high walls and a steel gate. The small building inside features a small room with a kitchenette and a toilet and is secured with an alarm system and exterior steel locks as well. Some people really like their property safe!