Day 25
As usual in the morning, I'm taking my time to pack up and leave. During breakfast I witness the camp owner having some lights fixed "A-Team style", with the ladder (affixed) onto a tractor, all the while the short man on the ladder is enjoying a fat cigar a la "Hannibal"

At 10:30 I'm ready to go, and a short while later I'm already at the peak, the "Chisa pass". Piece of cake, really, as the weather once again is perfect (coolish, overcast) and the pass itself is only some 1041 meters high. Laughable! Italy, don't you have anything more difficult to offer? (I didn't do any research, so there probably is ;)
(Excuse the poor photo, my selfie camera has some cracks since Milano)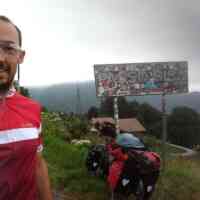 Yesterday's and today's ascent is now followed by a very nice and long descent.
Just shortly before reaching Aulla, the other cyclists, Gioele, Francesco and Simon are having lunch while I'm passing through:
Despite my late departure this morning my goal is to get to Massa today. I have just booked a flight to my home town to attend a family celebration, which I will join from July 25 until August 1. Now having a deadline looming over my head to reach Rome by the 24th, latest, I'd rather rack up some more kilometers now than getting stressed out later.
Around 17:00 I get to the sea
It is just as crowded as you'd imagine the Italian beaches to be, and judging from Google maps, about 95% of all Italian camp sites are to be found just here in "Marina de Massa" (I will later learn that there are a mere 37 camp site in that location, but it actually feels more like 200 to be honest...!)
Not knowing which place to pick, I cycle a bit away from the seaside craziness and walk up to the reception of a seemingly more quiet camp ground.
"Buon giorno. Do you have loud music and party going on tonight?", I ask the receptionist.
"No! We don't have that here", she replies and looks at me, slightly sceptical.
"Great! How much for one night?"
I quickly set up camp, take a shower and start my dinner preparations. I'm looking at a meaty treat: spaghetti and bolognese sauce is on the menu tonight.
A woman walks by. She stops, gestures at me and talks to me in Italian. Is she concerned about me cooking food?
-"Uuuh sorry. Do you speak English, deutsch, francais?" I say my standard phrase
-"No no no, Italian only" she replies
The neighbor has overheard our fruitless efforts in making conversation.
-"Aaah, tu parles francais?" he asks.
We continue in French
-"Yes, yes. Not too much, but it is enough for a basic conversation, I guess"
-"Okay, great. Well the lady here would like to offer you a table and a chair, it would be more comfortable!"
Oh, awesome! I nod happily and before I can say thank you I'm being brought a small camping table and a chair by the woman and her husband.
Then, she looks at my stove, critically.
- "It is better if you cook your food on our stove" I'm being told.
And the spaghetti?
- "No no, here have some tagliatelle, much better".
Of course, there is also fresh pesto genovese, parmesan and an ice cold beer waiting for me!
It seems the couple have already eaten and while they are preparing the pasta for me, they both speak Italian to me. I understand so much as they're both retired and spend about 4 months a year on the camp site, which is mainly geared towards long-term campers as they are.
Another neighbor stops by, cat on the leash.

When I return to my tent after dinner, Maurice (my French speaking neighbor) chats me up and invites me to join him for a coffee in the camp site's local bar.
Before I know it I'm sitting amidst a group of mostly female seniors and long-term campers with Maurice being the French-Italian interpreter. I understand he used to live in France and he also has relatives spread out all over the world. The group is quite interested in my travels and my joke offer to stay a few days longer and tell them more if they each cook me dinner one night is well-received.
It is after 10pm when I return to my tent. I feel like I have finally arrived in Italy that night.